In our last blog, we dove into the second chapter of the Metalforming Design Handbook, also known as the "Red Book," which industry leaders recognize as the go-to manual for precision metal forming practices. Chapter Two taught us about tolerances and how they vary for Short Run Metal Stampings according to the part's design.
Now, join us as we take a closer look at edge conditions in Chapter Three!
Edge Conditions
The clearance between punch and die on ferrous materials should be about 8% to 10% of the material thickness, which may vary due to hardness and thickness. Likewise, the punch and die clearance will differ on various non-ferrous materials.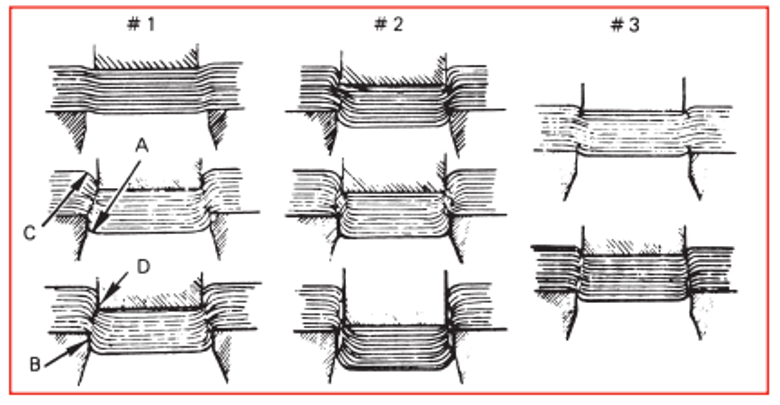 Example #1
Example #1 illustrates the expected results from material like cold-rolled sheet steel, commercial quality, that is less than 1/4 hard temper, or with a shear strength of approximately 45,000 psi. A slight pulldown "A" of the blanked edge and a straight sheared section "B" for about 25% to 30% of the material thickness will occur on the die side.
The opposite will occur on piercing as indicated by "C" and "D" on the punch side. The balance of the thickness will have breakage. More pulldown and a more significant sheared edge will occur for softer material.
Example #2
Example #2 indicates the results of less than the usual clearance. Increased blanking pressure will be required, and double breakage on the blanketed edge will occur. At times double breakage on thick parts might be more desirable than 8% to 10% taper.
Example #3
Example #3 indicates that on tough materials, the pulldown is negligible, and the sheared edge would possibly amount to only 10% of the thickness of the material.
Download the Red Book!
If you're interested in reading the full version of the Metalforming Design Handbook, click the button below.