In our last blog, we dove into the third chapter of the Metalforming Design Handbook, also known as the "Red Book," which industry leaders recognize as the go-to manual for precision metal forming practices. Chapter Three taught us about edge conditions. Now, join us as we take a closer look at blank designs in Chapter Four!
A blanking die produces a flat piece of material by cutting the desired shape in one operation. This finished piece is called a blank. The blanking die is often used for parts with no internal features – since it usually only cuts the outside contour of a part. A blank dimension is not only a premise of blank design and manufacture, but also plays a significant role in deciding the machining process.
The below rules (a and b) apply for maximum economy. If followed, all blank periphery can be included in the blanking die, eliminating secondary tooling and operations.

A. Minimum practical section should never be less than material thickness or .060. A minimum section must be one and one half times material thickness for high shear strength material for the most practical stamping.
B. Radii on blank corners — Corners can be sharp if material thickness is 1/16 or less — over 1/16 allow corner radii (R) equal to 1/2 material thickness. See illustration.C. Practical Design for Economy Manufacture.
W = .060 minimum for materials thinner than .060 wider if possible.
W1 = Never less than material thickness, wider if possible.
L = 5 x W is maximum depth, should be less if possible.
L1 = 5 x W is maximum length, should be less if possible.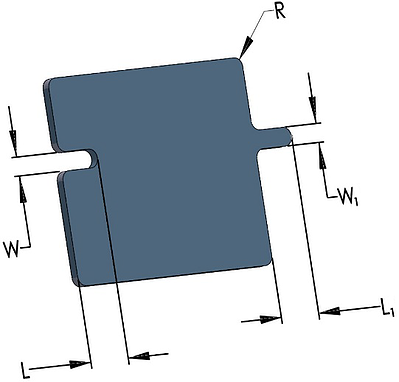 Download the Red Book!
If you're interested in reading the full version of the Metalforming Design Handbook, click the button below.