When working with aluminum over sheet metal, several variables need to be considered. Aluminum is typically thicker and stronger, and requires more force to bend as well as consideration of edge conditions and punch nose radii.
This free chart outlines what bend radii is required for the approximate thickness of aluminum. We recommend printing it out to keep as a reference.
Minimum permissible radius varies with nature of forming operation, type of forming equipment and design and condition of tools. Minimum working radius for given material or hardest alloy and temper for a given radius can be ascertained only by actual trial under contemplated conditions of fabrication.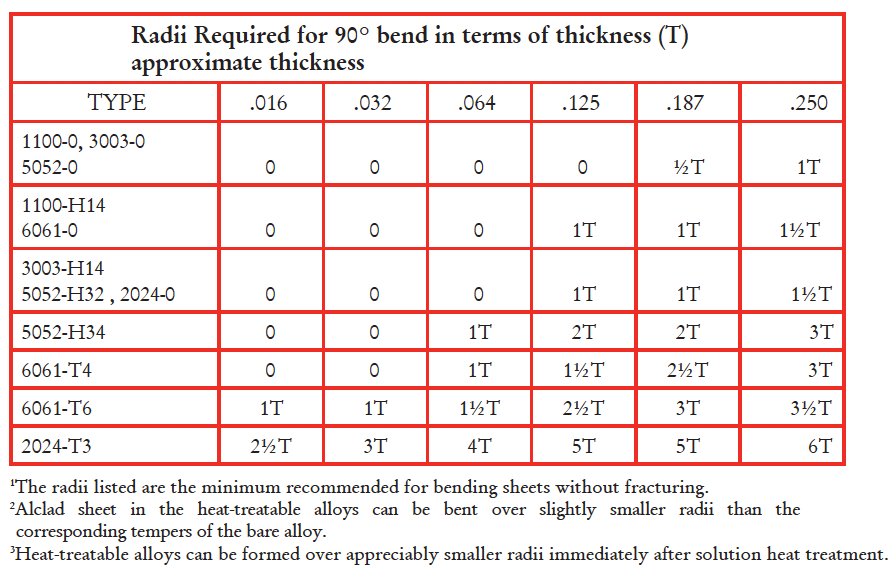 Want more metalforming and metal fabrication tips? Get your FREE copy of the original Dayton Rogers Red Book. This powerful book is your resource for all things metalforming and stamping.
---
Dayton Rogers is your trusted resource for sheet metal fabrication, metal stamps, metalforming and all your manufacturing company needs. Get a free quote today on your custom metal fabrication project.
LOCATIONS
MINNEAPOLIS 8401 West 35W Service Drive, Minneapolis, MN 55449
TEXAS 1107 Commercial Blvd N, Arlington, TX 76001
OHIO 2309 McGaw Road West, Columbus, OH 43207
SOUTH CAROLINA 1020 Second Avenue, Columbia, SC 29209