Many metal stampings require holes, but there are several considerations when choosing where to place a hole and how to pierce the hole.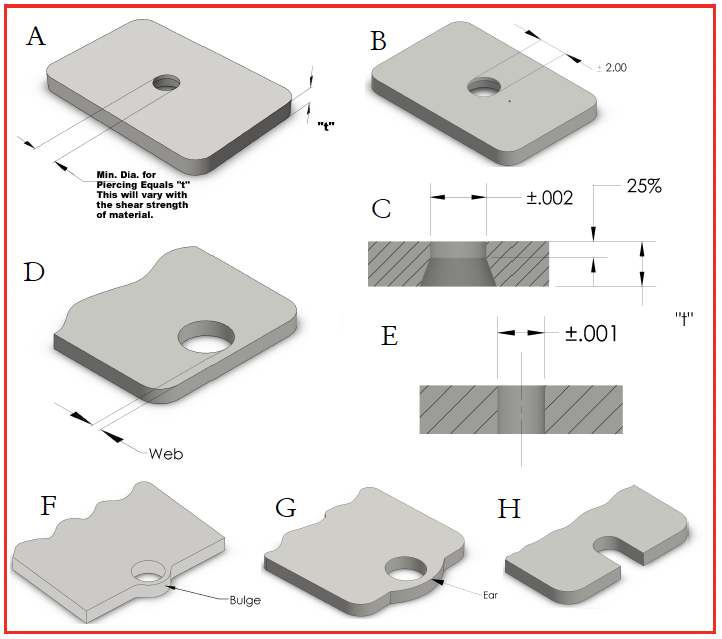 To pierce holes with economical tools and operations, the hole diameter must not be less than the stock thickness. If the hole diameter is less than the stock thickness (or less than .060), it must usually be drilled and deburred and each of these operations is slower than punching.
Illustration "B" indicates a hole diameter with a tolerance of plus or minus .002". We can pierce a hole within these limits on the punch side for approximately 25% to 30% of the material thickness as indicated in illustration "C". The percent of thickness varies with the shear strength of the materials.
On holes where a machine finish is required, they can be punched undersized, redrilled and reamed to size eliminating die breakage as shown. (See Illustration "E".)
If the web (distance between the hole and edge of material) is a minimum of the stock thickness, the hole can be punched which is less expensive than drilling and deburring. (See Illustration "D".)
A web that is less than the stock thickness will result in a bulge on the blank. Bulge conditions would increase progressively as the web decreases until there would be a complete break through. However, the bulge is hardly visible until the web is reduced to less than 1/2 the stock thickness. These examples would also apply to a web between holes. (See Illustration "F".)
If a measurable bulge is not permitted, a drilling and deburring operation may be necessary.
As a suggestion, if the web is too narrow, the profile of the blank could be changed by adding an ear of sufficient dimensions and shape to eliminate the problem. (See Illustration "G".) Another suggestion would be to change the contour of the blank to include the hole as a notch. (See Illustration "H".) The notch could either be pierced or be wide enough so it could be included in the blank without a piercing or notching operation.
Want more metalforming and metal fabrication tips? Get your FREE copy of the signature Dayton Rogers Red Book (2018 Metalforming Design Handbook: Cost Effective Design Principles). This powerful book is your resource for all things metalforming and stamping.
---
Dayton Rogers is your trusted resource for sheet metal fabrication, metal stamps, metalforming and all your manufacturing company needs. Get a free quote today on your custom metal fabrication project.
LOCATIONS
MINNEAPOLIS 8401 West 35W Service Drive Minneapolis, MN 55449
TEXAS 1107 Commercial Blvd N Arlington, TX 76001
OHIO 2309 McGaw Road West Columbus, OH 43207
SOUTH CAROLINA 1020 Second Avenue Columbia, SC 29209