When designing metal blanks for precision metal stamping, there are a few guidelines to follow for the most economical results. Below, you'll find some of these guidelines. These are tried-and-true best practices we've discovered in our over 90 years of metal stamping.
GUIDELINES FOR BLANK DESIGN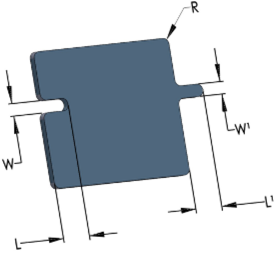 MINIMUM PRACTICAL SECTION THICKNESS
Minimum practical section should never be less than material thickness or .060. A minimum section must be one and one half times material thickness for high shear strength material for the most practical stamping.
BLANK CORNER RADII
Corners can be sharp if material thickness is 1/16″ or less — over 1/16″ allow corner radii (R) equal to 1/2 material thickness. See illustration above.
PRACTICAL DESIGN FOR ECONOMY MANUFACTURE
Follow these guidelines for maximum economy:
W = .060 minimum for materials thinner than .060 wider if possible.
W1 = Never less than material thickness, wider if possible.
L = 5 x W is maximum depth, should be less if possible.
L1 = 5 x W is maximum length, should be less if possible.
If followed, all blank periphery can be included in the blanking die, eliminating secondary tooling and operations.
---
Want more metalforming and metal fabrication tips? Get your FREE copy of the original Dayton Rogers Red Book. This powerful book is your resource for all things metalforming and stamping.

---
Dayton Rogers is your trusted resource for sheet metal fabrication, metal stamping, metalforming and all your manufacturing company needs. Get a free quote today on your custom metal fabrication project.
LOCATIONS
MINNEAPOLIS 8401 West 35W Service Drive Minneapolis, MN 55449
OHIO 2309 McGaw Road West Columbus, OH 43207
SOUTH CAROLINA 1020 Second Avenue Columbia, SC 29209
TEXAS 1107 Commercial Blvd N Arlington, TX 76001