During shearing and punching, there are a number of factors to keep in mind to improve edge conditions.
On ferrous materials, the clearance between punch and die should be about 8% to 10% of the material thickness, which may vary due to hardness and thickness. The punch and die clearance will differ on various non-ferrous materials.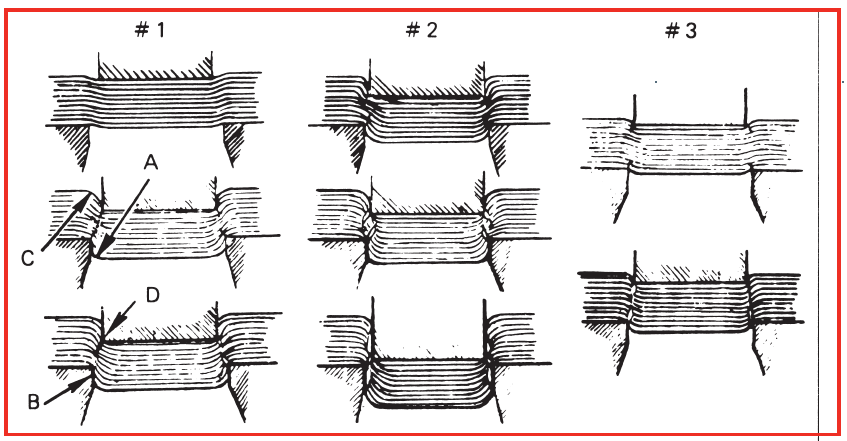 Cold Rolled Sheet Steel
Example #1 illustrates the results that will be expected from material like cold rolled sheet steel, commercial quality, that is less than 1/4 hard temper; or with a shear strength of approximately 45,000 psi.
A slight pulldown "A" of the blanked edge and a straight sheared section "B" for about 25% to 30% of the material thickness will occur on the die side.
The opposite will occur on piercing as indicated by "C" and "D" on the punch side.
The balance of the thickness will have breakage.
More pulldown and a greater sheared edge will occur for softer material.
Results with Less Than Usual Clearance
Example #2 indicates the results of less than the usual clearance. Increased blanking pressure will be required and double breakage on the blanketed edge will occur. At times double breakage on thick parts might be more desirable than 8% to 10% taper.
Hard Materials
Example #3 indicates that on very hard materials, the pulldown is negligible and the sheared edge would possibly amount to only 10% of the thickness of the material.
Want more metalforming and metal fabrication tips? Get your FREE copy of the signature Dayton Rogers Red Book. This powerful book is your resource for all things metalforming and stamping.
---
Dayton Rogers is your trusted resource for sheet metal fabrication, metal stamps, metalforming and all your manufacturing company needs. Get a free quote today on your custom metal fabrication project.
Locations
MINNEAPOLIS 8401 West 35W Service Drive Minneapolis, MN 55449
TEXAS 1107 Commercial Blvd N Arlington, TX 76001
OHIO 2309 McGaw Road West Columbus, OH 43207
SOUTH CAROLINA 1020 Second Avenue Columbia, SC 29209